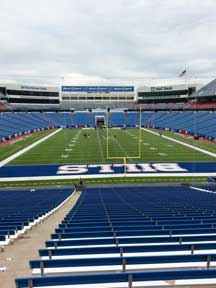 I left at the 1:36 mark of the fourth quarter. That's right, I left. What's more? You owe me a "thank you".
Last time I bailed on a early season Bills game was during Kelly's come back game versus Miami (week 1 1989). I had already dealt with the Bills losing for most of my life as a kid up until that point. I remember crying the year before when the Bengals beat them in the AFC Championship. I remember thinking at the time, "hey, I'm 12, I'm too old to cry, but I wanted this." I think if the Bills got to an AFC championship game and lost today, I'd still cry with no shame.
Anyways, after a half of being equally as frustrating as the Bengals game in 1989, the doorbell rung. Kids in the neighborhood wanted to play football. So we went out and played thinking Miami won. We were making plays on a fictional Bills team that could win the super bowl. As we were doing that one of the Mom's came busting out the door, "they won." At the time, it was so bizarre to even think that they could beat Miami. Specifically in that game because the first game felt so utterly hopeless.
At the time, there was no readily available ESPN packages of highlights or the internet, so we all kind of just listened to this Mom butcher the telling of how he scored. I'm not sure she told us that Kelly was at the 2 yard lie with 3 seconds left and ran an improbable keeper to score. Later that night we saw it and saw old Marv sprinting into the endzone to celebrate with the team.
Some Bills, like Daryl Talley, note that game as a game that got the team to Bill-ieve. So when you fast forward to 2013, and EJ takes it from the 2 yardline and punches it in with an improbable fade with 2 seconds left, you can't help but immediately think of Kelly. That was 24 years ago. I think we deserve such awesomeness.
But back to me deflecting blame from leaving early. I left in 1989 and the Bills went on to 4 Super Bowls because of it (don't do the math, trust me. Kevin+leaving early+early season improbable win from 2 yardline* young QB that the locals want to believe has the right stuff=Super Bowl appearances.)  There is a wiki page. What? There isn't? Ok, reminder to self, make wikipage on Shenoy Bills postulate. I left early here and the same thing happened. There is something in the air. And guess who put it there. I did.
What was truly awesome was that my dad, girlfriend and uncle had endured a sloppy, boring flow-less game (more on that below). They said, let's go. I couldn't hold these people back. I'm but one man. This may be exaggerated to make me a bigger Saint but they aren't writing articles so it's my word against theirs. As we were walking out I literally said, "you know they are going to score now. We are going to hear the fireworks from the parking lot." I also said, "If we stay, they will lose." This is the utter truth and they should be writing an article because I literally said this, hence the quotes.
Upon getting into the parking lot, there was a roar. Then the fireworks. There was a look of utter disbelief. How could we sit through 58 minutes of sloppy boring football to only miss the best part of the game? My dad and i quickly said, "wait, how much time is left, Music City Miracle!" Then I said to my girlfriend who is a bit new to the Bills scene, "if the Bills have won, we'll hear the car horns." and sure enough the car horns started with the "Let's go, Buff-a-lo" beat. I love Buffalo and it's reliable predictability.
So just to recap, I left early, the Bills were able to win because of it and you're welcome.
DVD Extras:
EJ's sixth sense – In two games, he has shown that ability to evade tacklers in the pocket to buy time. In the 1:36 that I missed, which i saw on replay thanks to my Uncle Kam, there is one play where he is almost sacked.  HE puts this hands down, buys time and throws and out to spiller who gets out of bounds. Since the Bills won with 2 seconds, the 10 second run off from being sacked would have lost us the game. In the Pats game on a 3rd down, he had a nice spin move to just buy extra time to throw down the field. Those are some of those little things that makes you think and hope he has the IT factor.
Offensive worries: The Bills have very little ability thus far to run sustained drives. While the defense is bailing them out, the Bills are just a few injuries away from not being able to do that. So the offense, while big play oriented, needs to start showing us some consistency. This goes back to taking less penalties, having better 1st down plays, and being a little less predictable on the play selections.
Uptempo offense – So who thought the Carolina defenders were faking injuries? There were some third quarter drives that the Bills started getting momentum and all of sudden there were 3 injuries in four plays. Seeing that there are a couple uptempo offenses this year, i hope the NFL cracks down on this.
4th and 18 penalty – I am not arguing that Frank Summers didn't hold someone, but to have the officials talk about it for an unusual amount of time was odd. To me, if someone has committed a penalty that was obviously before the punt and would cause a first down from 4th and 18, it should be clearly obvious to the ref.They should huddle for no more than two seconds and call the penalty. But on that penalty it was a long discussion as though they couldn't agree if it was before or after the punt. Therefore, they decided to go with the most advantageous call to one team instead of just saying it happened after the punt and let them re-kick it. That would have been a fairly neutral ruling.
Which brings me to the refs – In two weeks, I've watched multiple games. The refs are atrocious. It is like they want to be the stars of the game now. Every game is getting a number of penalties and reviews that there is hardly a flow. Part of the problem to the BIlls game was that every big play had some penalty, review or injury associated to it. Turnovers being reviewed kills the momentum of the turnover. And the fact these 60 year old guys have to walk to a huge voting booth on the side of the field seems so antiquated. You can't get them an ipad mini and let them look on the field?  What year is this? 1961. The computer room is the room with the computer? And then there were the commercials. Are NFL teams really this sloppy this year, or am I just a cranky old guy?
Mario Williams – It's clear to me that he's kind of struggling with the foot. When he can line up and just go, he's fine. See: 4.5 Sacks killing a couple drives for the Panthers. However, if he's moving and needs to stop and start in an opposite direction, he is slow and a bit tentative on the foot. This is not to deride him…it's just to get you excited as to what a healthy Mario could do.
Cam Newton: Not much of an accurate thrower, huh? Not that the secondary gave him much to throw to, but anything over 15 yards was kind of a crapshoot.
The secondary: Kind of amazing that they have been this reliable. Perhaps its two anemic offenses, and we'll see how little talent they have when they have a real receiving corp traipsing through the coverage. But a little credit is due to Pettine. He's working with arguably less talent than Wanny and getting significantly more out of them. Makes you wonder what a draft focused on D could do.
Crapping on the secondary – What was with Aaron Williams crushing Steve Smith for no reason on 3rd and long in a close game? The penalties by the Bills are still stunningly high. As this was not a Patriots game, I'll accept that all the calls were legit. This was perhaps the worst one. If they really want to talk about being a new team with confidence after this win, they should come out in this Jets game and play a disciplined game for a change.That would get me excited that things are coming along nicely.
Contractually obligated Pats Smack talk – Only the Pats could have a melee break out on the sideline in the fourth quarter of their game and have no penalties called on them… in a fight.  There were three penalties called and all were on the opposing team. But right, they don't get the calls.
Jets – This game is kind of a make or break it game for the Bills. If they win this…on the road…against and AFC East foe, they are on righting this ship. If they go have their classic boring loss at Metlife, they are 0-2 in the division and fighting to stay relevant. How week 3 can be so important, i have no idea, but it is.
Kevin Shenoy can be reached at onefansview@gmail.com and can be followed on twitter @KevinShenoy