I made a bet with my boss (a Jet fan of Italian descent) that if the Bills won, we'd have to go to Olive Garden. If you are Italian, I'm told, this is just an incredible insult to what Italian food is. He agreed as long as I was willing to eat breaded chicken wings if the Bills lost. As a Buffalonian this is an incredible insult to what a chicken wing is. I agreed.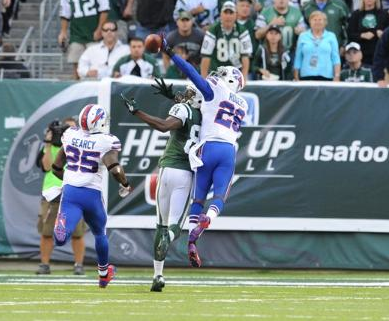 It wasn't until I was walking home after making the bet that I realized how screwed up things are in Jets and Bills Fandom. Fans of teams who win more consistently probably would have made bets that had the Victor enjoy something. Whereas amongst a Bills/Jets bet, the winner got to be miserable by watching the other one be slightly more miserable. Sure, watching him eat the never ending pasta bowl would be very enjoyable, but I would have been there eating the same stuff. I would be deriving joy not from enjoying something wonderful, but instead watching someone be less happy than me. And thanks to yet another Bills loss to Rex Ryan, I'm sure he's excited to watch me eat what has been deemed "the worst of breaded wings in NYC". But he's eating the same crap as well, and for him, that will be the taste of victory. Classic Bills/Jets fandom.
That bitter taste of being slightly less miserable than the other was essentially what the Bills/Jets game was. The winner was watching the loser be in a slightly less sucky for an afternoon. While the Jets couldn't get 1 yard at home against the 30th ranked run defense, the Bills were unable to win when they won the turnover battle and the penalty battle. If you were a Jet fan, would you have really been exciting watching the albeit droopy face of the franchise almost throw an interception with less than 4 minutes to go as you are trying to run out the clock? Sure he had the better QB rating, but he also threw 2 INT's to a Bills secondary that barely has CFL talent out there. As the Bills showed some life that they were going to tie the game, I started to wonder if eating breaded wings at Olive Garden was going to be the end result of a tie.
But here we are: 0-2 in the AFC East. You hate to say something like this, but this season is essentially over. Winning the AFC East will take the teams who are two games up on the BIlls to flame out. And if next week the Pats and Dolphins win while the Bills lose, they will be 3 games up. That will require a colossal meltdown from two teams. Additionally, the Bills have to start winning some games. And with the Browns being a "powerhouse" after essentially giving up, that Thursday game is not a gimme either.
In the words of Dennis Green, the Bills "are who we thought they were". They are a team that was dangerously close to being 0-3. They were a 6-10 team, took away the two best players in Levitre and Byrd and expected to be better. This is beginning to feel a lot like the last 13 years.
DVD Extras:
Feels like last 13 years #1: On a day were the offense stuttered greatly, we can rest assured that the Bills have hired the  next great punter. While replacing Jim Kelly hasn't been completed in almost 20 years, it took us exactly one punter to find the new Moorman. Shawn Powell was crushing 60+ yard punts and getting 3 inside the 20. Hats off to our Punter scout. We'll always win the punting battle.
Feels like last 13 years #2: We are 0-2 in the East; we've lost to a Jets team we should have beat for the 3rd straight year, we are at the bottom of the AFC East, we are seeing the injuries mount up.
Sit down Chris Watson: Chris Watson, our famous DB who was torched regularly for a season or two in the late 90's, was arguably the worst defensive back ever to play the game and not arguably the worst DB in Bills History….until Justin Rogers came along. Justin Rogers had a miserable game. And even on the play he had fairly decent coverage, it went for a huge game-winning touchdown. But to not be outdone, Jim Leonard became the new Bills Punt Catcher. Chris Watson was referred to as a punt catcher by Wade Phillips after having an punt return average of .6.5 yards aftre fielding 77 punts in his career. That was slightly better than catching the ball and jumping forward. To give, good ole Chris a run for his money, Jim Leonard caught 2 punts and returned them for 4 yards. An average of 2 yards. At 5'8″, Jim Leonard averaged just over the distance of catching a ball and falling forward on his face. What once took one man to suck greatly, is now a two man job. This is the motto of your 2013 Bills.
EJ Manuel and the OL-  I am not losing faith on the guy just yet. The line play was terrible. EJ wasn't doing a JP Losman impersonation and just fleeing every time the heat came. He tried to move up in the pocket and throw, but would get sacked in that process. Yes his accuracy was atrocious, but you have to give him a pass on playing his first road game. I just don't think he's doing anything to make the OL look bad like Losman. I do think that the OL is making him look bad by not giving him a chance to throw or scramble.
Colin Brown is objectively graded by profootbalfocus.com as the worst starting left guard in the league. This is calculated by watching his every play vs every play of all the other LG in the league. Remember that Guard we had? His name was something like Andy Mclevitre….Levi-alwaysmaketheprobowl. I forget what it is exactly, but I remember being told that he wasn't worth the $9MM a year. Though I remember having two explosive running backs when he was here. I'm being told that the running backs we have now that just run into a wall are the same guys as last year. Hmmmm.
All this is happening on a team head coached by a former offensive linemen. So either he doesn't know what he's teaching, or the Bills have found themselves yet again undervaluing the main focus where football is played. The Line of Scrimmage.  This is a dizzying circle of life the Bills have established. In 2002-5, the Bills went all skill, and left the lines in shambles. The results were to get better linemen. So we did and then let the skill positions suffer and the results still remained just as lackluster. Instead of saying, "there is a best of breed between the two," the Bills are back to going skill only. A journeyman like Fitzpatrick was able to find some success back behind a good line.
The $9MM we didn't give Levitre was arguably left to pay another Probowl talent, namelyJarius Byrd, however we didn't sign him either and have elected to watch Justin Rogers get toasted every other down. I am happy to report that we did elect to spend a lot on Leodis McKelvin. And that is like saying "I didn't sign all stars, but I saved money by staying at a Holiday Inn Express last night." So  while it seems like things in the Russ Brandon, "i bought some new shiny toys" regime changed, almost nothing has changed. We're just stuck in Russ' perfectly designed Circle of Hell.
The draft – Look that the 2013 draft. We went after offense big time. And wouldn't you know it, the offense is worse than it was last year. The defense that completely sucked last year, lost talent and is playing  better than last year. First, I think you have to credit Pettine for having less talent this year and a much stouter defense. Second, this should be a damning sign that our front office guys really have no clue on how to assemble a team if the one side of the ball they wanted to improve got worse and the side they did nothing about got better.
TJ Graham: Anyone else finished with this guy? He's under sized, never catches a pass and found it not worth the time to run back to the line of scrimmage for the last play of the game. And remember, we traded up to get him at the 69 pick last year. Russell Wilson, the franchise QB of Seattle, was taken at 75. Had we taken Russell, then arguably we could have taken OL players in an OL deep draft, still let Levitre go, and be on the upswing. In his two years as WR, TJ Graham has caught 33 balls for 335 yards. This year in 2 games vs NFC opponents, Wilson has completed 33 passes for 462 yards. Kudos for the Bills staff for taking a flyer on a guy they scouted oh so well and shame on you Bills fans for screaming for Russell Wilson last year when you had heard we traded up.
Hackett – Run, run, pass. Is it possible that if someone like myself is noticing this pattern and I don't study game film, that NFL coaches would notice this? In the words of my friends with whom I was texting, have the Bills run a play action play in the last 5 years? If you have built a body of work that is so predictable, you should try and catch some people napping. Hackett doesn't really seem like he's up to the challenge of the NFL. Crazy to think what makes you a .500 coach in college won't work in the NFL.
Kevin Shenoy can be reached at onefansview@gmail.com and you can follow up on twitter at @KevinShenoy.