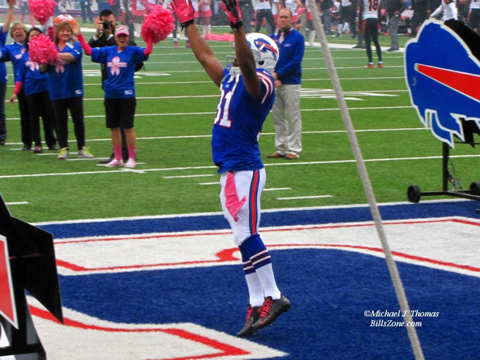 I went back to Buffalo for a Pearl Jam concert. They are my favorite band, and they have always had a way of knowing my current mood. While standing in the FN Center, Eddie Vedder sang a lyric "wanna third second chance". Then he
talked about missing his daughter's first goal that day and then played a song called "once". The guy seemed intimately aware of the Sabres ability to only score once a game, offered his daughter as a wing, and then was as confused as any of us on why Darcy has his third second chance to build a winner. Oh Pearl Jam, do you have a song about the Bills?
They do. The song is called "got some" and the lyrics were "Are you on the rise? Are you falling down? Lemme know, c'mon let's go yeah!" The Bills are an enigma. After losing to the Bengals the season is effectively over. They have two divisional losses, the Pats just never lose, and it's becoming clear that the AFC East will only have one representative this offseason. Yet somehow, i feel like the Bills might still be on the rise. I hate typing that because i must have typed that 4 times in the last 13 years and have been wrong each time. But hear me out, this time is different (also a pearl Jam lyric)
Like the past 13 years, we are down to Moral Victories. And I think the Bengals game was one. I know that there are no amount of moral victories that add up to a playoff appearance. But the Bills had a defense that couldn't stop a screen, a reverse, or a running play. Seemingly any pass a previously struggling Dalton threw, was available. The Bills offense hung tough early, got confused in the middle, and then got a second wind. They had a good chance to get blown out, but fought back for overtime. I am distinctly aware how much excuse making this is, but if they can actually just suck this year, a draft next year with a Clowney immediately takes this from a middle of the road defense, to a lights out defense. and the offense that scores 22 points a game on average, is enough for a team that could keep other teams to below 20.
The Bills were getting blown out to a team that didn't let the Pats score a touchdown. But we had 3. One came in the last 2 minutes from a practice squad QB named Thad. And if you really think about it, the Bills are as close to 6-0 as they are to 0-6 and 2-4. They could have won the patriot, jet, browns and bengals game. They could have easily lost the panthers and ravens game. But the point is, they are finally in games until the bitter last second and they are doing it without an OL or secondary.
On the Flip side, there is still a lot of regular Buffalo going on. First and foremost, Russ Brandon and Jeff Littman, center pieces to this period of mass suckage, not only are still in the organization, they've been given promotions. "Hey Johnson, you didn't get that report done as asked for the 3rd straight time, have you considered a higher level of management?" That power has translated into a team that could very well have 4 QB's playing in the last 7 quarters of football. That's classic Buffalo. They never are prepared for injuries when all anyone talks about is the number of injuries in football. Sometimes I wonder if the Bills management suffers from head trauma.
The injury to EJ is most damaging in that we could probably all survive a painful season with EJ getting the grasp of the speed of the game. However, now that he is missing time, it means that it all gets delayed. If he only gets to play the back end of the season, next season may still require more learning. And that means the Bills will probably lose Freddie, and spiller. And they'll be drafting a RB, when it's the defense that needs the help the most.
So, yeah, Eddie, what team is this? One that is snake bitten for the last season and we'll see some progress next season? Or is it just another season of close games that won't mean anything in the bigger scheme of things? I'll tweet Pearl Jam and find out what they know.
DVD Extras:
Ed Hochuli – I'm not going to say that the Bills lost because of Penalty calls. Eventually a good team just gets over it and makes a play. But there is something strange about Ed Hochuli. He comes off as an ego maniac. Ever since as fans we started noticing him with his gigantic arms, he has become too talkative during penalty announcements and each game seems to have a penalty call that makes the game a little about him and his amazing reffing.
Thad Lewis- Before the game, I said to my dad, i think this could be a competitive game. There is no real game tape on Thad, if he is used to NFL speeds, he might just be more relaxed to throw accurate passes. And sure enough, he stretched the field more, and put accurate passes out there. Eventually teams will see him on tape and his effectiveness will slow down, but it gave hackett a big positive. With better performance from his QB, his play calling didn't look ridiculous. He looked mostly competent.
That being said – the least competent thing he did was the 4th and goal roll out with a lineman being the elligible receiver. I liked the idea of going for it. But I would have rather been conservative and tried one more time to run the ball. Even with the stop, the ball would have been on the one inch line.  I hope the failure at the endzone doesn't make Marrone less aggressive, but simply smarter in  his play calling going forward.
Coworker in survivor pool – a coworker in the survivor pool took the Bengals. He said to me, "it's a PS qb. This is a no brainer." To which i said, "over the last 10 years both teams have taken turns being one of the worst teams in the league, and every time the team that's supposed to be better gets taken to the mats." HE stuck with his bengals choice and was pleasantly surprised that they won but gave me kudos for knowing my stuff.